The Brown Girl Wears Green
Talking About Sustainable Fashion
2 years ago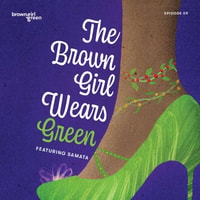 Episode Notes
This episode of Brown Girl Green is focused on sustainable fashion. We discuss if/ why sustainable fashion is the path forward away from throw-away culture and mass over-consumption of clothing in modern society. Despite the benefits of more "sustainable" or environmentally friendly fashion, there are still a lot of gaps around diversity, equity, and inclusion within the movement. A majority of sustainable fashion only caters to a small demographic that excludes many different ethnic groups and body types from partaking in its ethical benefits. Further, some sustainable fashion brands don't necessarily prioritize racial justice or labor rights even if they are all "green" or "zero waste." So in this episode, I examine what some of the gaps exist around sustainable fashion, but also the benefits this framework of going more "green" with your clothing habits can have on society.
The interview features Samata, a British-born Ghanaian fashion designer, author, and journalist who is best known for her role as Global Campaign Director for Red Carpet Green Dress, a campaign that is pushing to showcase ethical fashion on the Oscars red carpet. She is also an award-winning womenswear designer whose work in the fields of fashion and sustainability has received coverage from BBC Radio 1Xtra, Essence, ITV's This Morning, E! Entertainment, Women's Wear Daily, ELLE, InStyle, Essence, Refinery 29, and Red Magazine.
The biggest topics covered in this episode are: -Discussing why sustainable fashion is useful and necessary -Redefining what sustainable fashion can be- beyond just luxury goods for the privileged, how can we own actions like wearing second-hand, clothing swaps, and DIY's to minimize our consumption? -What a more diverse sustainable fashion world would look like and why that's important
Sustainable Fashion brands/ initiatives mentioned in today's episode: Sustainable Brooklyn Project One Eighty Nine Sustainable Fashion Forum Soko Kenya Fashion Revolution Anthill Fabrics Pildora NYC Mate the Label The Front Lash
Some resources for further reading: Fashion Takes Action- Fashion's role in the Sustainable Development Goals
What COVID-19 means for sustainable fashion
Find out more at https://brown-girl-green.pinecast.co
This podcast is powered by Pinecast.