S1E6 - The Violence of Silence: Racial Equity & the Outdoors
2 years ago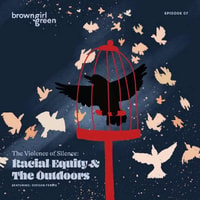 Episode Notes
In this week's episode of Brown Girl Green, we are talking about racial equity within the outdoors given the current state of the world. A few weeks ago, Christian Cooper, a black birder encountered a white woman, Amy Cooper who felt threatened & called 911 after Christian Cooper asked her to put her dog on a leash. This racist action on a microscale brings us to a point where we must critically analyze systemic racism at a macroscale in our country today. Access to a clean, healthy, and safe environment can be achieved through institutional and cultural change that prioritizes the needs of black lives.
Kristy interviews Deeohn Ferris, Vice President of Diversity, Equity, and Inclusion at the National Audubon Society.
Key Takeaways
People of color do not have proper access to the outdoors and we need to actively create the institutional and cultural change necessary to address that
Environmental justice and police brutality are both symptoms of a broken system that does not prioritize black lives. We must not rely on institutions alone to address this, we also need to demand cultural change within our interpersonal relationships/ culture to fight white supremacy and internalized racism.
Nearby nature and backyard birding are key steps to actually providing options for people of color to have greater access to the outdoors. People of color deserve access to green spaces, and should be allowed to reclaim public space as much as necessary.
For organizations to donate to at this time, I am shouting out: -The Groundswell Fund -LGBT Racial Justice Fund -PGMONE -Brown Girls Climbing -New York Audubon Society -Black AF In Stem
Find out more at https://brown-girl-green.pinecast.co
This podcast is powered by Pinecast.